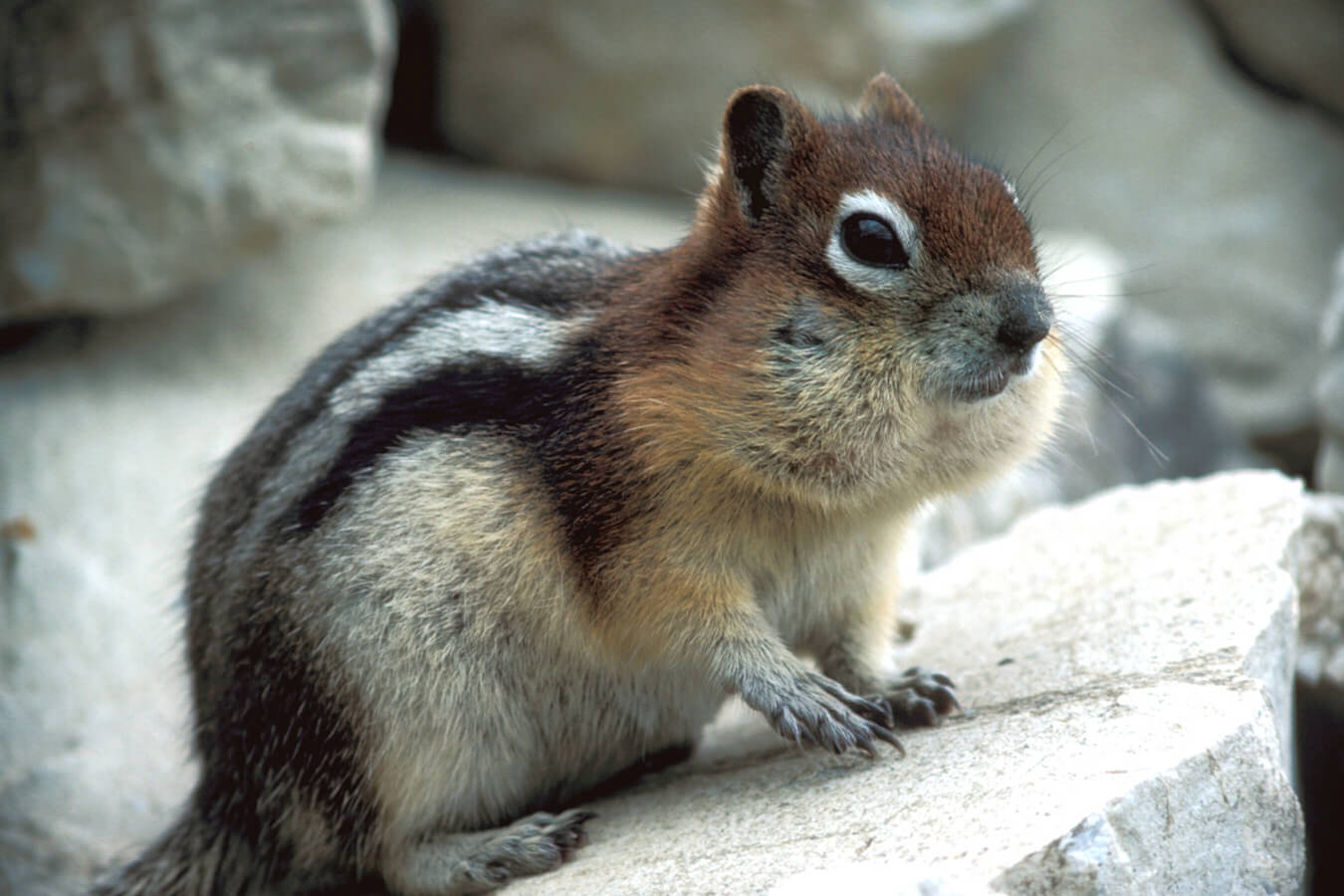 In the western regions of North America's diverse and captivating landscapes, a delightful creature known as the Golden-Mantled Ground Squirrel (Callospermophilus lateralis) graces the forests and alpine meadows with its presence. With its striking appearance and intriguing behaviors, this tiny marvel never fails to capture the hearts of nature enthusiasts and casual observers alike.
A Glimpse of Splendor: Appearance and Characteristics
The Golden-Mantled Ground Squirrel, often dubbed the "miniature chipmunk," is a small rodent that belongs to the ground squirrel family Sciuridae. Sporting a vivid and unmistakable appearance, these squirrels boast a coat of fur characterized by three distinct stripes. The most prominent feature is the golden-brown stripe that runs down their back, lending them their name. This rich hue is set against a backdrop of grayish-brown fur that covers the rest of their body. To complete their charming attire, a contrasting white stripe adorns their sides, delineating the golden mantle from the rest of their coat.
Typically, these squirrels measure around 9 to 11 inches in length, including their fluffy tail, which adds an additional 5 to 7 inches. Despite their relatively diminutive size, their charisma and visual allure more than make up for it.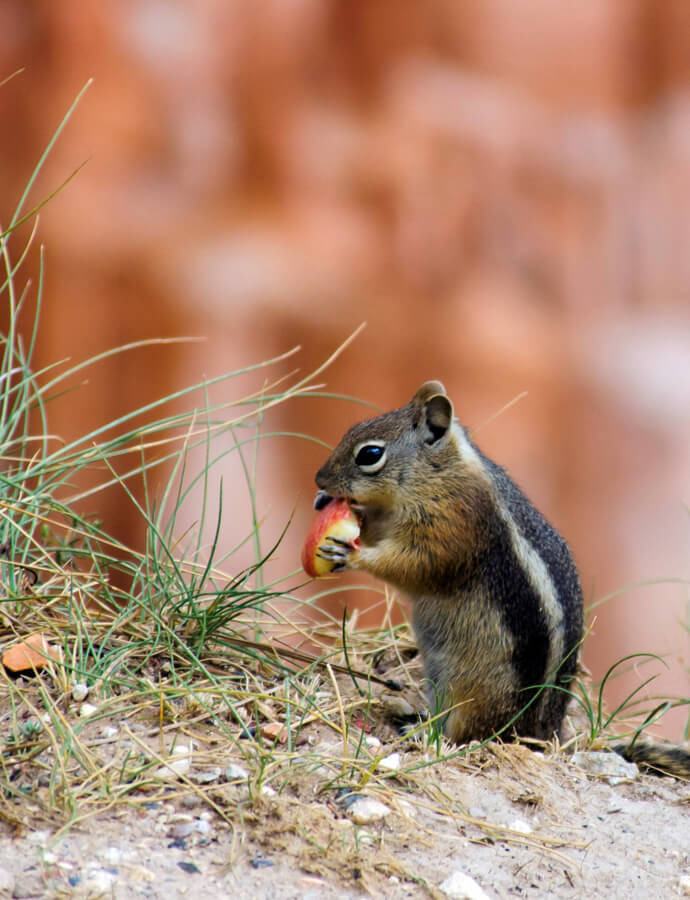 Diverse Habitats and Home Ranges
Golden-Mantled Ground Squirrels have a diverse range and can be found in a variety of habitats throughout the western parts of North America. From coniferous forests to alpine meadows and even montane deserts, these adaptable creatures manage to carve out a comfortable existence wherever they go. Their choice of habitat often includes rocky terrains, where they utilize crevices and burrows as shelters.
These squirrels are known for their territorial behavior. While they're not as sociable as some other species, they do tolerate their own kind within their home ranges. However, they can become quite assertive in defending their territory from intruders or other animals that might pose a threat.
Dietary Preferences: Omnivores at Heart
In the culinary realm, Golden-Mantled Ground Squirrels are known for their flexibility. They possess an omnivorous appetite that includes a diverse array of food items. From nuts, seeds, berries, and fruits to insects, bird eggs, and even small vertebrates, these squirrels exhibit a wide-ranging palate. This varied diet ensures their survival in the ever-changing landscapes they call home.
Nature's Engineers: Seed Dispersal and Ecosystem Impact
Beyond their visual appeal and dietary habits, Golden-Mantled Ground Squirrels play an essential role in the ecosystems they inhabit. Much like other squirrels, they engage in the unintentional act of seed dispersal. As they gather and store nuts and seeds in their burrows or caches, some of these cached items inevitably get left behind, aiding in plant propagation and contributing to the renewal of the forest floor.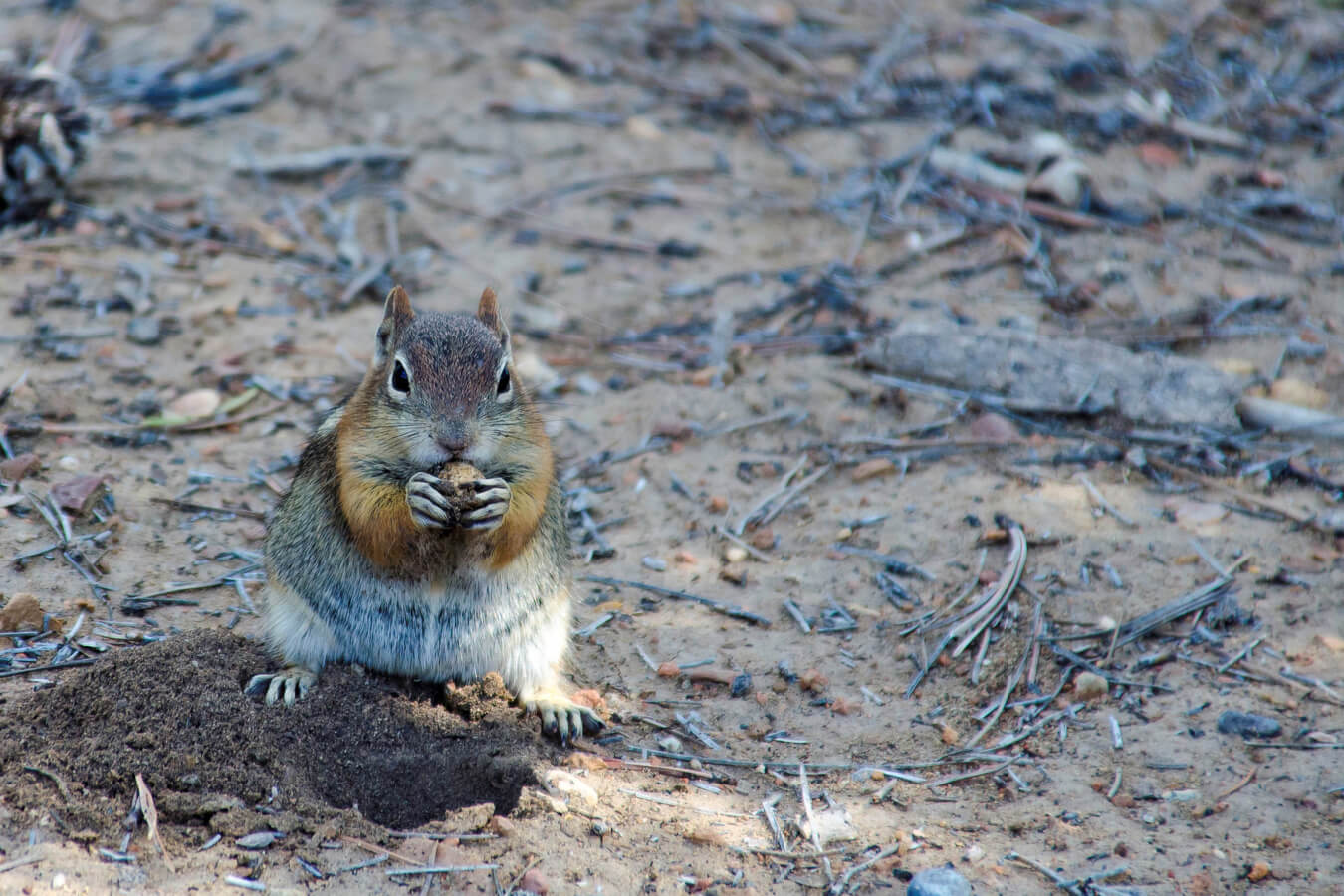 Conservation Considerations
While the Golden-Mantled Ground Squirrel is not currently facing significant conservation threats, its habitat can be impacted by factors like deforestation and urban development. By understanding and appreciating the vital role these squirrels play in maintaining ecosystem balance, we can contribute to their conservation indirectly.
Final Thoughts: A Testament to Nature's Diversity
The Golden-Mantled Ground Squirrel is a testament to the extraordinary diversity that graces our natural world. Its beauty, adaptability, and ecological role remind us of the intricate web of life that sustains our planet. Whether you encounter one in a remote alpine meadow or catch a fleeting glimpse in a forest, take a moment to appreciate the tiny marvel that is the Golden-Mantled Ground Squirrel – a living gem of western North America's wild places.
Some of the links on this website are affiliate links, which means we will earn a commission at no additional cost to you, if you click through and make a purchase. Regardless, we only link to products we use or believe in.